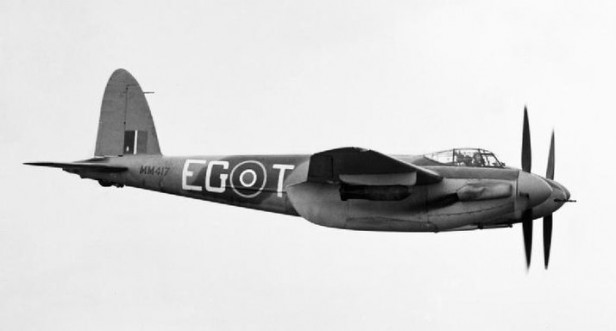 The People's Mosquito, Ltd. based in Leicestershire, England, has reported several very positive developments in their effort to return a de Havilland Mosquito to the skies over the UK.
The wing ribs for their project are nearing completion at Aerowood Ltd. in New Zealand, and work has begun on elements of the tail section. The organization has also reserved the registration G-FBVI with the Civil Aviation Authority, reflecting the machine's restoration as a FB Mk.VI (seen above).
Finally, The People's Mosquito has been confirmed as a registered charity, a status that will reportedly provide opportunities to approach potential sponsors and seek Heritage Lottery Funding.
The build is based around the remains of NF.36 RL249 of No. 23 Sqn, which were recovered in 2010. The aircraft had crashed and burned at RAF Coltishall in February 1949, leaving "very little, if anything, that is in an airworthy state". However, the machine's identification paves the way for a "dataplate restoration".
Work will progress using Glyn Powell's fuselage molds, which were used for the restoration of KA114 and are the only usable examples in the world. Although the bulk of the work will be carried out by Aerowood, Ltd., parts, sub-assemblies, Packard-built 60 Series Merlin engines and paddle bladed propellers will reportedly be sourced from the UK.
The aircraft will be used for "heritage, conservation and educational purposes" and the organization plans to allow as much access to RL249 as possible to achieve these ends. When complete, the group plans to return the Mosquito to the UK for flight testing and certification. It will likely be based at Lincolnshire or Cambridgeshire.
Check out the video below to learn more, and be sure to check out the People's Mosquito's
(via The People's Mosquito Thanks, Pascal!)