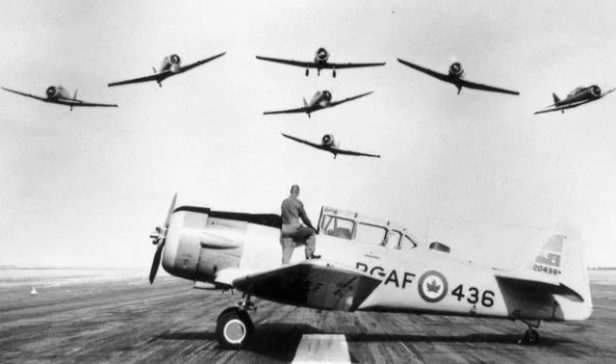 The Canadian Harvard Aircraft Association (CHAA) is planning to recover remnants of a T-6 Harvard that crashed into Lake Erie in 1943 for display at the No. 6 RCAF Dunnville Museum in Ontario.
The crash occurred on June 19th, when pilot and RAF hopeful William Charles Smith performed an "unauthorized exhibition" of "wave hopping". The Harvard (2963) was reportedly buzzing the steamship S.S. Canadiana, traveling 100mph only 5-8 feet above the water. While approaching the vessel's stern, he entered a steep climb and stalled the aircraft, which then crashed nose first into into the Lake.
Smith was killed in the incident, and the fuselage of the machine had to be recovered to retrieve his body. The CHAA is now working to retrieve the remaining wreckage, which includes a tire, a section of wing, gears, engine parts and a propeller.
The operation is being carried out with the approval of the Ontario Ministry of Tourism, Culture and Sport and with the assistance of the Canadian Conservation Institute (CCI) of Ottawa. Divers have already recovered a fire extinguisher that was recently presented to the museum.
The CHAA is also in the process of determining the location of two additional Harvards that crashed into Lake Ontario off Wolfe Island near Kingston. CHAA president Walther Irie hopes that one will be "in good enough condition to recover".